Hello, it's Thursday, March 30, and here are the stories you shouldn't miss today:
TOP STORIES
California kills bills that would punish fentanyl dealers
As thousands of Californians die each year from drug overdoses fueled by fentanyl, a bitter fight has emerged in Sacramento over how lawmakers can hold dealers accountable without refilling state prisons and waging another "war on drugs."
The disagreement reached a boiling point this week at the state Capitol, as Californians whose family members died from fentanyl overdoses packed a hearing room where Democrats voted down a bipartisan bill that would require warning convicted fentanyl dealers that they could face homicide charges if they sell it again. Meanwhile, a Democratic lawmaker shelved several other bills to increase sentences for fentanyl dealers.
More on the opioid crisis
Sign up for our California Politics newsletter to get the best of The Times' state politics reporting and the latest action in Sacramento.
Health premiums and consumers' medical costs may be about to soar, even as inflation falls.
During the pandemic, healthcare costs — usually a main driver of U.S. inflation — remained surprisingly stable, rising just about 2% annually even as prices for many goods and services soared more than three or four times that rate.
But signs are emerging that medical inflation is back as demand for non-COVID-19-related health services recovers and healthcare providers seek to make up for soaring labor costs and losses during the pandemic.
More rain means more car-damaging potholes. Here's how to get repaid.
If your ride has been sabotaged by a pothole hidden under a pool of water or rendered invisible by an unlit street, you have ways to seek reimbursement for the damage.
Here are the steps you can take.
More on the storms
Mexico is investigating deadly fire as a homicide case
Mexican authorities said that the deaths of 39 men in a fire inside an immigrant detention center here are being investigated as homicides and that they were planning to arrest eight guards.
Rosa Icela Rodríguez, Mexico's secretary of security and citizen protection, accused the guards at the detention center in Ciudad Juarez of failing to release dozens of desperate migrants who remained locked behind bars Monday night as smoke billowed and flames spread.
Authorities said they also plan to arrest a migrant suspected of starting the fire.
Newport Beach battles a new breed of luxury party houses
Newport Beach has joined a host of destination cities in California moving to regulate fractional home ownership, in which multiple people own a small share of a neighborhood home that's used as a vacation property.
As the practice of fractional home ownership has accelerated, homeowners have started to mobilize, raising the same concerns about noise and trash that have been levied in calls to regulate Airbnb-style short-term rentals. They paint fractional ownership as just one more scheme for converting neighborhood homes into vacation carousels for rich people who flit in and out with no real stake in a community.
Our daily news podcast
If you're a fan of this newsletter, you'll love our daily podcast "The Times," hosted every weekday by columnist Gustavo Arellano, along with reporters from across our newsroom. Go beyond the headlines. Download and listen on our App, subscribe on Apple Podcasts and follow on Spotify.
PHOTO OF THE DAY
CALIFORNIA
How Gov. Gavin Newsom fell short of the oil penalty he wanted but still scored a political win. Newsom launched an offensive in his war with Big Oil. The battle didn't go as planned.
Seven California Highway Patrol officers charged in the death of L.A. motorist caught on video. Six California Highway Patrol officers, a sergeant and a nurse have been charged with involuntary manslaughter in the death of a man they wrestled with while they tried to draw his blood following a DUI stop in March 2020.
It's like the 'Hunger Games': Schadenfreude and spectacle at Wing's L.A. estate sale. Everything must go at the defunct women's club known as the Wing. "It's the fall of Saigon for girl bosses," said one shopper, picking over the remnants of the formerly ascendant brand.
Support our journalism
Subscribe to the Los Angeles Times.
NATION-WORLD
FDA approves over-the-counter Narcan for opioid overdoses. The U.S. Food and Drug Administration approved selling naloxone without a prescription, setting the overdose-reversing drug on course to become the first opioid treatment drug to be sold over the counter.
Russia stops sharing information on missile tests with U.S. and begins nuclear weapons drills. A senior Russian diplomat said that Moscow would no longer inform the U.S. about its missile tests, an announcement that came as the Russian military deployed mobile launchers in Siberia in a show of the country's massive nuclear capability amid the fighting in Ukraine.
China warns McCarthy not to meet Taiwan's president in L.A. China threatened "resolute countermeasures" over a planned meeting between U.S. House Speaker Kevin McCarthy and Taiwanese President Tsai Ing-wen during her upcoming stop in Los Angeles on an international trip.
Netanyahu dismisses Biden's suggestion that he drop contentious judicial overhaul. Israeli Prime Minister Benjamin Netanyahu rebuffed President Biden's suggestion that he back down from a contentious plan to overhaul the judicial system, saying the country makes its own decisions.
HOLLYWOOD AND THE ARTS
PowerTrip metal mega-festival rumored for Empire Polo Grounds in the fall. With the Coachella Valley Music and Arts Festival two weeks away, another massive, much heavier music festival from promoter Goldenvoice may be stomping through Indio this fall. Goldenvoice is teasing the debut of Power Trip, a heavy-metal festival scheduled for the Empire Polo Grounds for Oct. 6-Oct. 8.
The first-ever L.A. museum seating report card — from the brutal to the glam. How do museum benches in the Greater Los Angeles area rate? In this highly scientific, first-ever report card on museum seating, columnist Carolina Miranda sits and tells.
Mark Hamill adds Luke Skywalker's voice to the Ukrainian air-raid app. Ukraine supporter Mark Hamill has lent Luke Skywalker's voice to a smartphone app that warns of incoming air raids amid the war with Russia.
Garth Brooks and Dolly Parton team up for the first time to host ACM Awards. The Academy of Country Music has tapped Garth Brooks and Dolly Parton to host the 2023 ACM Awards, streaming May 11 on Amazon Prime Video.
BUSINESS
Marvel Entertainment's Ike Perlmutter booted amid Disney layoffs. Walt Disney Co. has bounced Marvel Entertainment chairman Isaac "Ike" Perlmutter. The 80-year-old comics titan, who has long been a prickly presence within the Burbank entertainment company, got swept up in a broad cost-cutting move that began earlier this week. Disney confirmed that Perlmutter had received his pink slip.
Warner Music Group to cut 270 jobs and 4% of staff in an effort to 'evolve.' Warner Music Group is cutting 4% of its global staff, in what its chief executive Robert Kyncl described as part of an effort to "evolve" the music giant. The cuts were announced in a staff memo from Kyncl, and are expected to affect about 270 of the company's 6,200 employees around the world.
Restaurants and carwash workers struggle, while other businesses benefit. The relentless storm cycle was brutal for much of the restaurant industry, leading to flooding, the closure of outdoor patios, last-minute cancellations, construction delays and service disruptions. But for others, the recent rains provided a major boost.
SPORTS
After 15 seasons, the Dodgers' Clayton Kershaw has perfected his control. As Kershaw remains unsure about when he might retire, how long he'll remain in a sport he has dominated for a generation, and whether he'll ultimately finish his career in L.A. or back home in Texas, he has adopted a year-by-year approach to his future in baseball.
Meet UCLA's favorite gymnastics fan. Josh Lim is UCLA's gymnastics super fan. The third-year student attends home meets, studies the gymnasts' routines and is the club team's president. Here's how Lim also became the team's best backup dancer.
Free online games
Get our free daily crossword puzzle, sudoku, word search and arcade games in our new game center at latimes.com/games.
OPINION
Scandal after scandal, Trump has defied political physics. Will this time be different? It's foolish to predict the impact if Trump is indicted. But there's reason to believe things have changed and his scot-free days may be over.
Nashville and a nation of mass shooting trauma. Another 200 children became survivors of gun violence Monday, this time in Nashville, when a 28-year-old armed with high-powered weapons broke into their school and opened fire, killing three 9-year-old classmates and three adult staff members. How much longer before most Americans can count themselves as survivors of gun violence?
ONLY IN L.A.
These Los Angeles chefs and restaurants are finalists for the 2023 James Beard Foundation Awards. More than half a dozen of L.A.'s top chefs, bakers, restaurants and beverage programs were named finalists for this year's James Beard Foundation Awards on Wednesday morning, placing Ototo, Greg Dulan of Dulan's Soul Food Kitchen, République's Margarita Manzke and others in the running for the country's most renowned annual food accolades.
Nearly 20 L.A.-area restaurateurs, chefs and establishments were named as semifinalists in January, in the James Beard Foundation's first round of announcements for the 2023 awards ceremony.
FROM THE ARCHIVES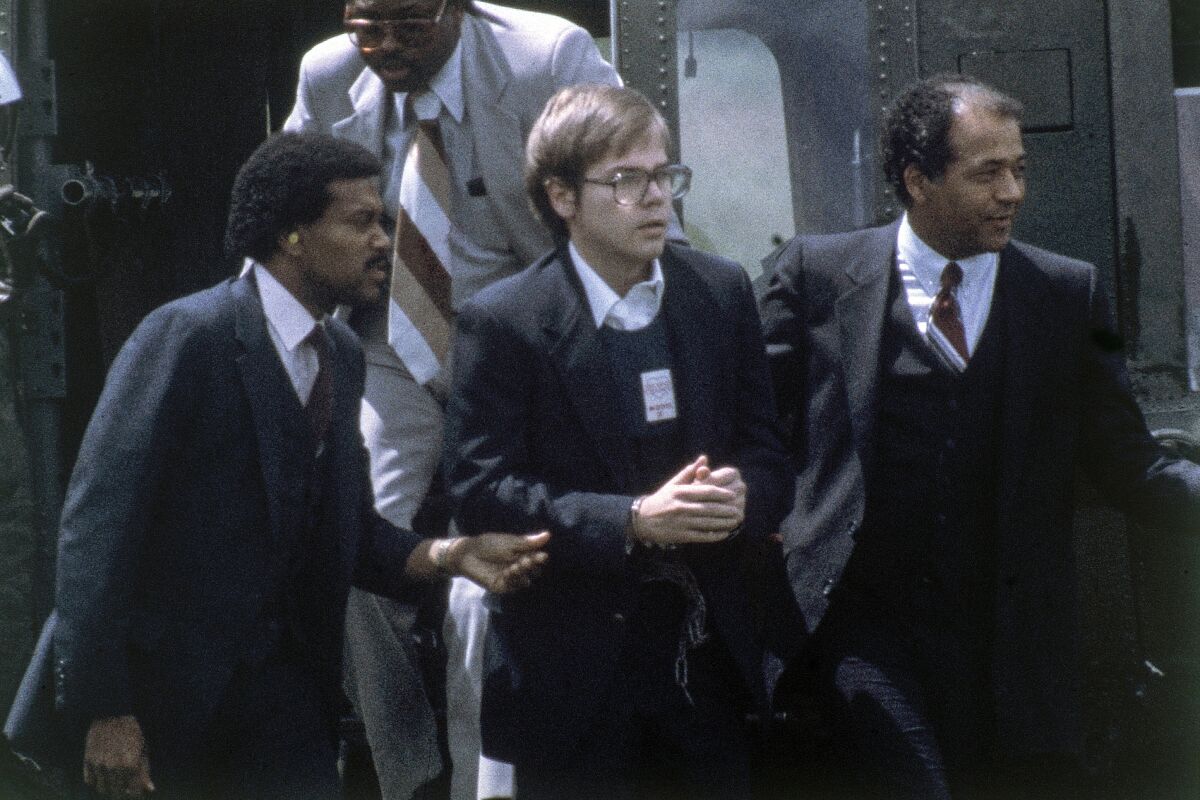 On March 30, 1981, just two months after Ronald Reagan's presidential inauguration, John Hinckley Jr. attempted to assassinate President Reagan outside a hotel in Washington D.C. Hinckley, then 25 and suffering from acute psychosis, was standing 15 feet from the president when he unleashed six shots in 1.7 seconds. He wounded three men — Press Secretary James Brady, D.C. Police Officer Thomas K. Delahanty and Secret Service Agent Tim McCarthy — before his final shot deflected off the side of the limo and hit Reagan in the left side.
Thanks to the quick actions of his lead Secret Service agent, Jerry Parr, the president was rushed to George Washington University Hospital. He was in bad shape. In the end, Reagan survived thanks to the heroic actions of his Secret Service detail and the doctors and nurses at the hospital.
Jurors found Hinckley not guilty by reason of insanity, and he spent decades at a mental hospital in Washington.
In June 2022, 41 years after shooting president Reagan, Hinckley was deemed "no longer a danger to himself or others" and was freed from all remaining restrictions, capping his four-decade journey through the legal and mental health systems.
We appreciate that you took the time to read Today's Headlines! Comments or ideas? Feel free to drop us a note at headlines@latimes.com.