A new report by Australia Post has revealed Australians spent a record $63.8 billion shopping online over the past year with 9.4 million households purchasing online goods.
Aussies spent the most on home and garden ($18.7 billion), a category which traditionally has more expensive items like furniture and electronic goods.
However, the overall growth was driven by increased spend on food and liquor stores ($13.1 billion ), as well as variety stores ($11.6 billion).
The report also revealed Secret Harbour topped the list for the 'Savvy Shopper' cohort.
"They are typically aged 25–54, with families, busy lives and moderately high incomes," the Australia Post report read.
"(The Savvy Shopper) likes to shop online for athleisure, footwear, sporting & recreational goods and pet products more than other shoppers.
"(The Savvy Shopper) buys online for convenience and the ability to shop for anything they want, whenever they want.
"(The Savvy Shopper) values deals and discounts and they respond well to sales events like Black Friday, Boxing Day and Amazon Prime Day."
Australia Post Executive General Manager Parcel, Post and eCommerce services Gary Starr said that while eCommerce had moderated with the opening of stores, the shift in the way we work, live and shop is here to stay.
"Aussies' love affair with online shopping has not waned, even with restrictions removed. One million more households are now shopping online compared to 2019, and 5.6 million households made an online purchase every month during the past year.
"Australians are shopping online more often, with 37 per cent shopping fortnightly compared to 20 per cent pre-COVID. The growth trend in online was steady prior to COVID-19 but spiked during restrictions, now it's showing a return to normal trend growth. By 2033, we expect around one in three dollars will be spent online," Mr Starr said.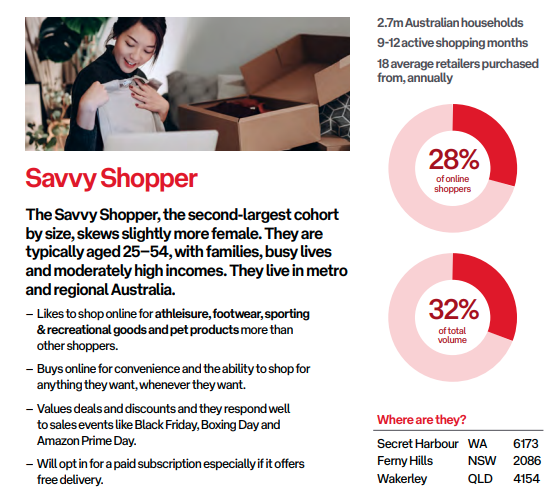 Secret Harbour topped the list of suburbs in the 'Savvy Shopper' cohort. PIC: 2023 Inside Australian Online Shopping report.