Lady Gaga stepped out in character as Harley Quinn for the first time on the set of the upcoming "Joker" sequel in New York City Saturday.
The 36-year-old singer and actress was pictured filming scenes at Manhattan's City Hall for Todd Phillips' "Joker: Folie à Deux," which will see the return of Joaquin Phoenix in the titular role.
The "Just Dance" hitmaker wore a quilted crimson blazer with tulle sleeves over a black and white diamond-patterned corset top with a black leather miniskirt and diamond-patterned sheer black stockings.
Gaga's blonde hair was slicked back from her forehead and she sported black harlequin eye makeup along with bright red lipstick and contour blush.
LADY GAGA CONFIRMS SHE WILL STAR IN 'JOKER' SEQUEL WITH JOAQUIN PHOENIX
The 13-time Grammy Award winner was surrounded by hundreds of extras as she filmed scenes on the steps of City Hall. She was seen amid a crowd of protesters as she was escorted into the building by Gotham City police officers.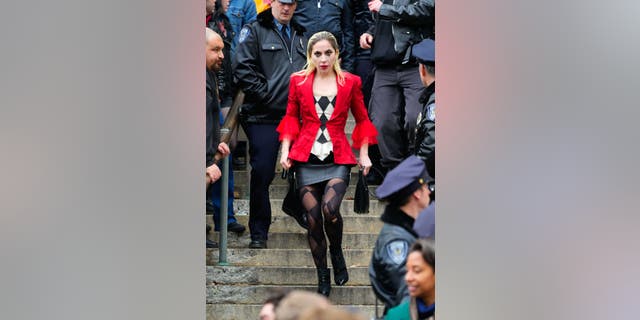 The protesters held flags and signs that said, "Free Joker," "Joker Marry Me" and "Justice for Joker." In one scene, Gaga turned around to look at the crowd and raised her fist before she was led into the building by officers in tactical gear.
"Joker: Folie à Deux" is the follow-up to Phillips' 2019 film "Joker," which told the original story of the classic DC villain. The movie became the highest grossing R-rated film of all time, and Phoenix won the best actor Oscar for his portrayal of the failed clown turned nihilistic criminal.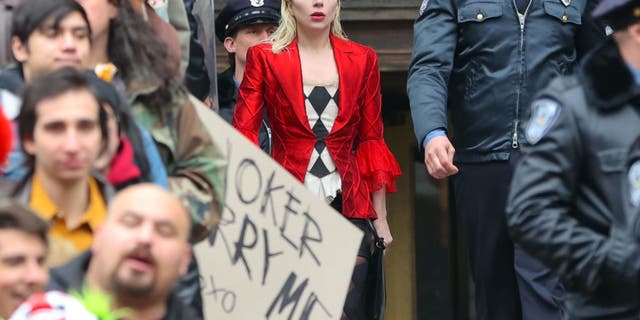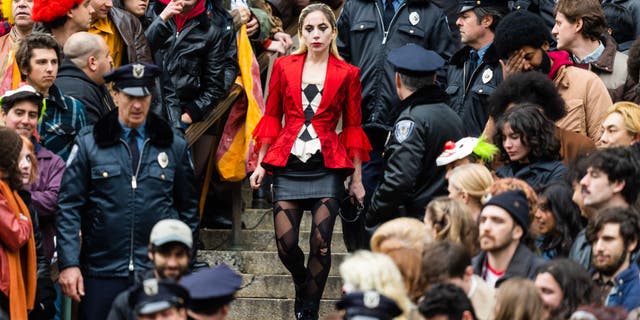 Last June, Phillips confirmed that a sequel was in development as he shared an Instagram photo of a script penned by him and "Joker" co-writer Scott Silver and a snap of Phoenix reading their screenplay.
In August, Gaga revealed she had joined the project in a post that she shared on social media. Though her role hasn't been officially confirmed, it was widely speculated that she will be playing Dr. Harleen Quinzel/Harley Quinn, a psychiatrist who falls in love with the Joker. And the latest set of photos appear to confirm the casting.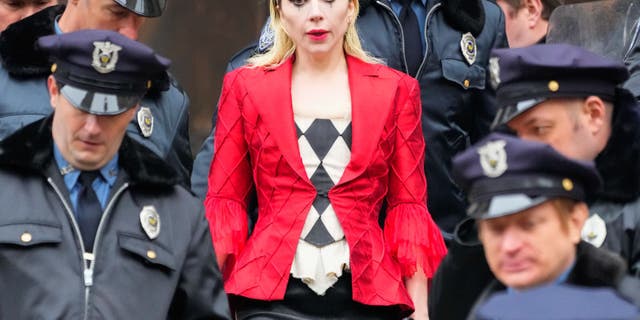 On Valentine's Day, Phillips teased the romance between the two in a post that he shared on Instagram. He uploaded a photo in which Gaga was seen in character for the first time as she embraced Phoenix' Joker.
Gaga last appeared on the big screen in 2021 when she starred as Patrizia Reggiani in Ridley Scott's "House of Gucci." She won a Golden Globe award for her performance in "American Horror Story: Hotel" and was nominated for the best actress Academy Award for 2018's "A Star is Born."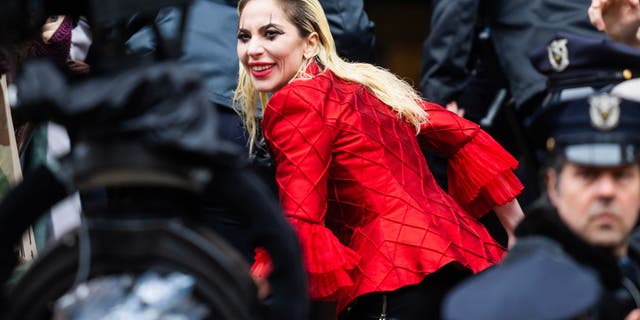 CLICK HERE TO SIGN UP FOR OUR ENTERTAINMENT NEWSLETTER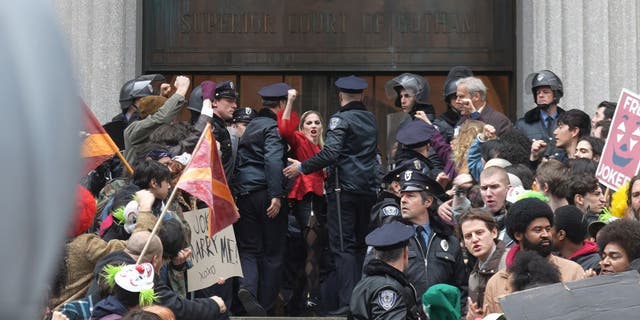 Harley Quinn was most recently played by Margot Robbie in 2016's "Suicide Squad," 2020's "Birds of Prey," and 2021's "The Suicide Squad." In a December interview with Entertainment Tonight, Robbie shared that she was looking forward to seeing Gaga's take on the character.
"I think she's going to do an amazing job. I'm so excited. It's all I could've ever hoped for Harley was that she would become one of those characters, kinda like Batman or Hamlet, that's gets handed from actor to actor. Everyone gets a go at playing them," Robbie told the outlet. "So, I think it's just credit to her as a character that people want to see her in multiple iterations. I'm excited."
CLICK HERE TO GET THE FOX NEWS APP
"Joker" was produced by Gaga's "A Star Is Born" co-star Bradley Cooper, who is also producing the sequel. Zazie Beetz is reprising her role as Sophie Dumond, and Brendan Gleeson, Catherine Keener, Jacob Lofland and Harry Lawtey are also set to star. "Joker: Folie à Deux," which has been described as a musical, will be released in theaters Oct. 4, 2024.