The latest 888poker Mystery Bounty Main Event has crowned its champion, and Brazilian grinder "DDD98" is the player who was bestowed with that accolade. "DDD98" will look back fondly on this event, not only because they became the tournament's champion, but they also clinched the $10,000 jackpot mystery bounty on their way to victory. With bounties included, "DDD98" saw their $109 investment swell to $20,258, one of the largest prizes this event has awarded.
Day 1 saw the 985 entrants whittled to a more manageable final eight, with those eight finalists heading into battle on November 20 under the watchful eyes of the 888poker Twitch streaming team, Nick Wealthall and David Tuchman. Here's how the final table action played out.
888poker $100,000 Mystery Bounty Main Event Final Table Results
| Rank | Player | Country | Bounties | Prize | Total Prize |
| --- | --- | --- | --- | --- | --- |
| 1 | DDD98 | Brazil | $12,953 | $7,305 | $20,258 |
| 2 | what1sl0v3 | Brazil | $663 | $5,340 | $6,003 |
| 3 | Zharok | Kazakhstan | $522 | $3,925 | $4,447 |
| 4 | Flopzilla_XD | New Zealand | $854 | $2,885 | $3,739 |
| 5 | FullPony | Canada | $400 | $2,135 | $2,535 |
| 6 | AUTISPOSTI | Malta | $602 | $1,590 | $2,192 |
| 7 | MCBlaze14 | United Kingdom | $205 | $1,195 | $1,400 |
| 8 | LimitIless | Germany | $102 | $905 | $1,007 |
The final table lost its first player ten minutes into the action. "LimitIess" Open shoved for a shade under 14 big blinds with pocket sevens only for "DDD98" to call on the button with pocket jacks. Those jacks held, and "DDD98" pulled out the $10,000 top bounty prize following that elimination.
"MCBlaze14" of the United Kingdom bowed out in seventh after a clash with "what1sl0v3" did not go to plan. The hand started with "MCBlaze14" raising to 2.2 big blinds with king-jack of spades in late position then calling the 5.4 big blind three-bet from "what1sl0v3," made with ace-six of clubs. A seven-five-six flop with two spades saw "MCBlaze14" check, "what1sl0v3" make it 3.3 big blinds, only for "MCBlaze14" to check-raise to 9.5 big blinds. "what1sl0v3" jammed all-in, and "MCBlaze14" called off the 16.4 big blinds they had behind. The turn and river bricked, and "MCBlaze14" was gone.
Sixth place went to Malta's "AUTIPOSTI." The aggressive big stack "what1sl0v3" min-raised on the button, "AUTIPOSTI" three-bet all-in from the small blind for 9.2 big blinds with aace-four of clubs, and "DDD98" called in the big blind with ace-ten. "what1sl0v3" mucked. A ten on the flop proved enough to send "AUTIPOSTI" to the rail.
Check out the PokerNews Online Tournament Calendar
Find your perfect 888poker tournament with the free PokerNews Online Tournament calendar. Set some filters to narrow your search before hitting the tables and becoming an 888poker champion.
Find the calendar here
The very next hand saw "Flopzilla_XD" join the list of eliminated players. "DDD98" open-shoved from the small blind with nine-six of hearts in an attempt to steal the blinds and antes, but the steal attempt failed because "Flopzilla_XD" called off their 15.2 big blinds with king-queen of spades. The flop gave "Flopzilla_XD" a pair of queens, but "DDD98" paired their six and picked up a flush draw. A ten on the turn gave "DDD98" more outs to a straight, and the straight came in on the river to reduce the field to only three hopefuls.
The final three became two when "Zharok" bowed out in third, the sixth bust-out in the space of 50 minutes. "Zharok" open-shoved for 8.3 big blinds with ace-seven, and "what1sl0v3" snap-called with a pir of queens in the hole. The five community cards ran out void of drama, and heads-up was set.
$10,000 in Weekly Freerolls and $150,000 in Guarantees With the 888poker Micro Rollers
"what1sl0v3" went into the heads-up battle with "DDD98" holding a substantial 139.5 big blind to 45.2 big blind advantage, yet they did not emerge victoriously. Twenty minutes into the clash, "DDD98" made trip threes on the river after "what1sl0v3" had turned two pair. "DDD98" was paid off, and the stacks were now even.
"DDD98" then made a straight when their opponent held two pair to forge some distance between themselves and "what1slov3," and it was all over soon after.
The final hand saw "DDD98" min-raise with king-three, and "what1sl0v3" call with ten-eight. "what1sl0v32 check-called a bet on the ace-three-ten flop, leading to a king landing on the turn. "what1sl0v3" check-called another bet on the turn. The river was a seven, which did not alter anything. "what1sl0ve" checked again, and "DDD98" shoved, covering their opponent. "what1sl0v3" didn't believe the story and called with third pair, only to discover "DDD98" held two pair and was the new $100,000 Mystery Bounty Main Event champion.
$1 Million Guaranteed KO Games Overlay Edition Kicks Off November 26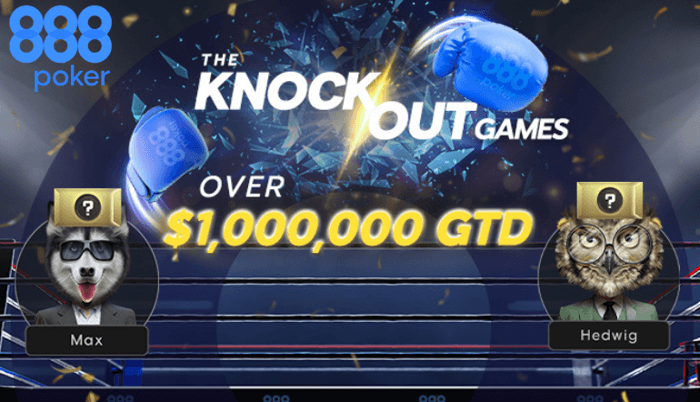 Attention now turns to the upcoming KO Games Overlay Edition at 888poker, a series of PKO and Mystery Bounty events with combined guarantees in excess of $1 million. Four events have prize pools of over $100,000, including the $162 buy-in $200,000 guaranteed Mystery Bounty, and the incredible value Main Event that also guarantees $200,000 despite costing only $25 to enter!