Sure, it's early, but sportsbooks are already giving us an early look at divisional betting odds and win totals, so we can't ignore them. The new league year just started, and free agent signings and subsequent roster moves have been rolling in non-stop over the past week. We're unpacking the NFL Draft weekly on Move The Line, and we're still awaiting the schedule release, which should come in mid-May, though we do know who each team plays.
As of this writing, we have a partial picture of what's to come and how to handicap each division, but there are impactful data points still to come over the coming months. So with that said, let's look at each team's current status and how to bet on them.
---
The easiest way to get access to all of these bets is through our newest partner, which allows you to get a 3-month subscription for just $5! Find out how here!
---
Buffalo
Bills
SCHEDULE NOTES
All AFC East teams face the AFC West and NFC East this season, with their additional three games coming against teams that finished in the same place in their respective division (two in conference, one non-conference), which I'll list below.
2023 Divisional Odds: +135 (Caesars)
2023 Win Total: 10.5
2022 Record: 13-3
2022 Offensive EPA Rank: 2nd
2022 Defensive EPA Rank: 7th
Effective Cap Space (per OverTheCap.com): $9.1 million
First-Round Draft Pick: No. 27
Total Draft Picks: 7
3 Unique 2023 Opponents: Jacksonville, Tampa Bay, @ Cincinnati
Once again, the Bills wear the AFC East crown, but objects in the rearview mirror could be closer than they appear. An earlier-than-expected playoff exit at the hands of the Cincinnati Bengals surely left a bad taste in their mouths, but their core is intact, and another upper-echelon year should be in the works.
Free Agency Notes
The Bills have been fairly quiet so far, outside of extending and keeping some of their core defensive contributors. LB Matt Milano, S Jordan Poyer, and CB Dane Jackson are back in the fold, while Milano's linebacker mate Tremaine Edmunds took the bag from Chicago to join the Bears. In addition, the Bills were able to free up some cap space by restructuring the deals of Josh Allen, Stefon Diggs, and Von Miller, so they have room to address their needs before the season kicks off.
Remaining Roster Priorities
The Bills need help along the interior offensive line and to find Tremaine Edmunds's replacement at linebacker. At pick 27 in the first round of the draft, there are a few players that could help. They could look to get younger up front and address their offensive line in the draft with O'Cyrus Torrence out of Florida or Darnell Wright out of Tennessee. If they look to target Edmunds's replacement, Arkansas linebacker Drew Sanders is considered by many to be the best of a weak off-ball linebacker class in 2023. Free agent moves between now, and the draft could signal which way they'll go once they're on the clock. Damien Harris was added as a bigger back to better complement the duo of James Cook and Nyheim Hines.
How To Bet On The Buffalo
Bills
The best number for Bills' backers is +135 on Caesars Sportsbook. The Bills have been considered one of the best teams in the league for the past few seasons, but this group has yet to work its way out of the Divisional Round in three straight Januarys. This price is as long as it's been in a few years due to the Jets and Dolphins' off-season moves, so it may be wise to buy the dip on the Bills. If you're on the other side, under 10.5 wins is +115 on DraftKings.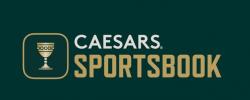 Caesars Sportsbook Bonus
First Bonus Bet up to $1,250 and earn 1,000 Reward Credits and 1,000 Tier Credits regardless of the outcome of the bet.